【The Second Akita Sake Café Event is for ladies! 】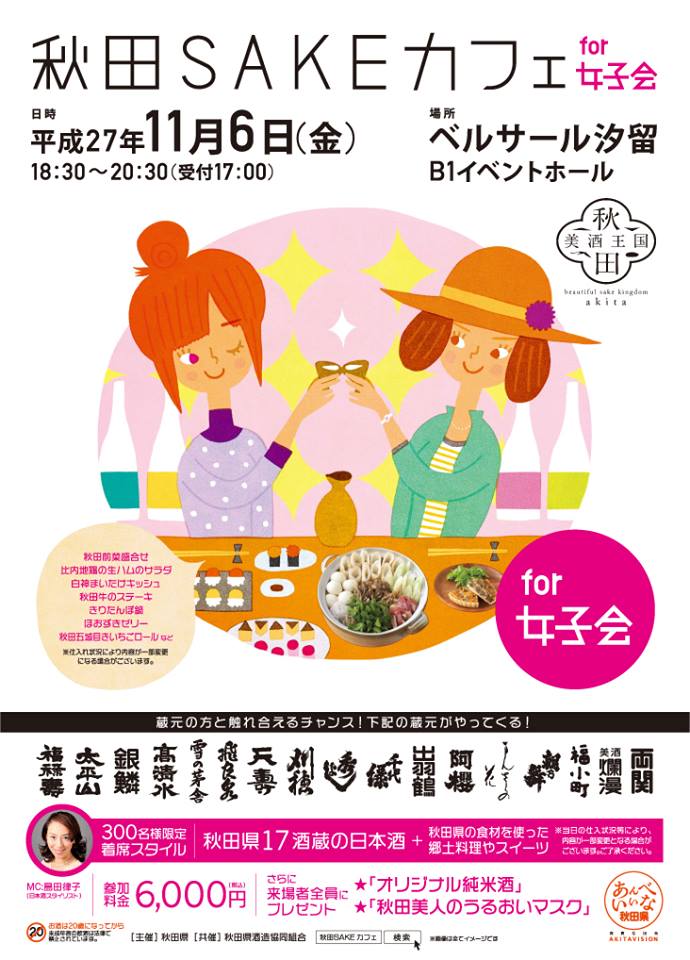 "Akita Sake Cafe in Tokyo" which was held at Hotel Chinzanso Tokyo on 4th September was a huge success. The second event will be already held soon! The second "Akita Sake Cafe" is special event only for ladies.
It will be held at Bellsalle Shiodome, Tokyo, on Friday, November 6th. 18 sake breweries from Akita prefecture will gather again, and Akita's local dishes preferred by ladies will be also served.
You can enjoy not only delicious sake and dishes but also conversation with people from brewery. Fees including meals are 6,000 yen and the fixed number is only 300! This is a golden opportunity to taste Akita's sake, so please join this event with your friends or colleagues. There are gifts "original Junmai-shu" and "Akita's special skin care pack" for every attendee.
Takashimizu will serve "Junmai Daiginjo" and "Dessert Jungin"!
Please confirm the following website (in Japanese) for further information.
Akita Sake Cafe
http://akiitasakecafe.com