【Successive Toji of Takashimizu – The Second Toji: Riichiro Nagasawa】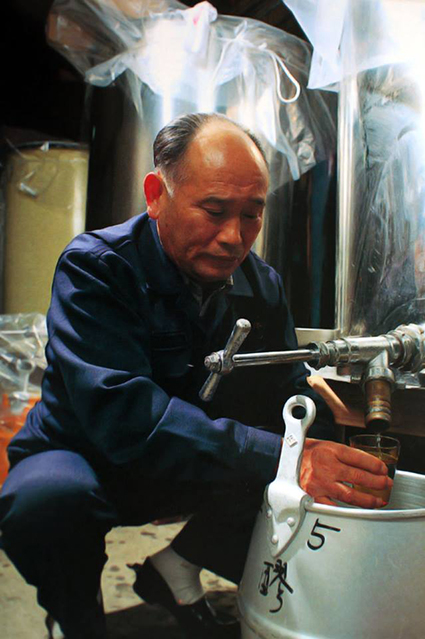 The second Toji was Riichiro Nagasawa, who came from San-nai area in Yokote city same as the first Toji Tsuruta.
Nagasawa entered Takashimizu as a seasonal worker in 1952 when the amount of sake brewing in Akita prefecture was recorded the best in the postwar. In that year, Akita's sake was so inundated with orders that the breweries were unable to meet even half of demands from all over the country, and the traders outside Akita intruded on sake breweries in Akita and they scrambled for sake.
Nagasawa started training of brewing sake, so to speak, in the golden period of Takashimizu and Akita's sake industry.
He had worked as a chief of Shubo (Yeast Starter) process for 3 years from 1958, as a chief of Moromi (Main Mash) process for 11 years from 1961, and as a deputy Toji from 1972. After that, in 1973, when he was appointed to Toji, he was deeply moved and made further efforts to improve the quality of Takashimizu sake. His dedicated earnest efforts bore fruit in the form of winning the gold prize at the Annual Japan Sake Awards in 1977 and he also received prizes at various sake competitions continuously after that.
Nagasawa talked about his own stance toward sake brewing in the interview of Akita's local newspaper.
"Even if the facilities are modernized, the basis of sake brewing is "Doing our work with asking materials." Toji is just patrolman in the brewery in order to have brewers do good works, however, I will never forget this attitude.